Award-winning Horse Care Products
Hawthorne Products, Inc. manufactures and distributes all-natural quality horse care products. Our products are designed for equine hoof care (Sole Pack, Hoof Freeze, etc.) and equine leg care (Cool Cast, Ice-O-Poultice and Liniments). We also provide our well-known Wind Aid, as well as essential commodities.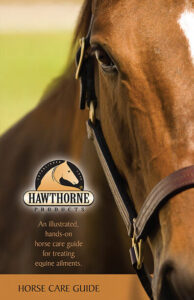 To help you have a basic understanding of various parts of your horse, we have created a Horse Care Guide as a companion to our products. Since your horse spends the vast majority of its day on its legs, hoof and leg care are extremely important to maintain its well-being.
Read Testimonials & Endorsements to see how Hawthorne Products, Inc. has helped others.